What are the advantages of home automation room temperature control?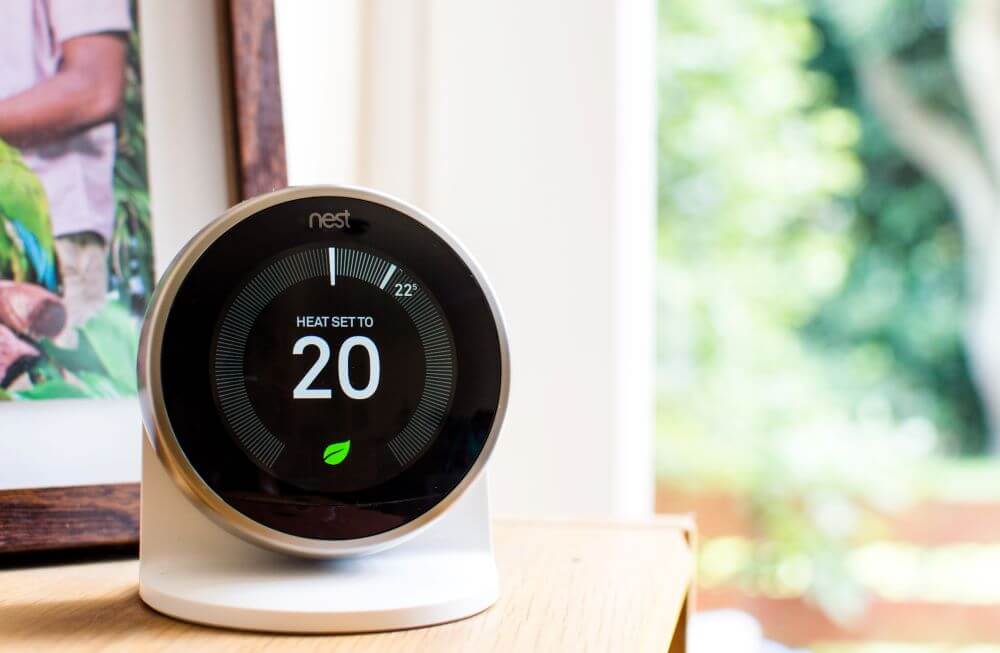 Managing the heating and cooling of a commercial space or home has its challenges, especially when it comes to manually adjusting the temperature of each room while juggling with the various heating modes.
That said, controlling and reducing energy costs effortlessly and remotely, while maximizing the comfort of a building's occupants, is no longer science fiction.
Find out how room temperature control through a home automation system can provide these benefits.
Smart thermostats linked to a home automation system save energy
In a territory like Quebec, where the outside temperature can easily vary by 60 degrees Celsius over the course of a year, the amount of energy consumed to keep a home or business at a comfortable temperature is substantial. And yet, much of this energy is expended while no one is even in the building. Smart thermostats coupled with a home automation controller can eliminate this energy waste in a number of ways.
A system that leverages geolocation
For example, thanks to smartphone GPS tracking, you can adjust a home automation system so that the heating or cooling system operates at a lower intensity when the owner moves away from the building.
Motion detection devices can also be used
Similarly, with the help of motion detection technology, you can ensure that a room is only heated or air-conditioned when people are in it. If no activity is detected for a certain period of time, the heating or cooling will automatically adjust downward.
Control your smart thermostats remotely: yes, it's possible!
Finally, if a person realizes that they forgot to set their thermostat to a lower temperature or forgot to turn off the air conditioning in their primary residence or business before leaving for the weekend, they can do it by remotely controlling their smart thermostat with a mobile device.
In short, you often have to sacrifice some of your comfort to save on the energy you use for heating and cooling. Well, that's not the case with home automation systems! On the contrary, they can provide as much comfort, if not more, while reducing energy consumption.
Home automation is above all practical!
In some buildings, various heating modes and types of appliances are used to keep the rooms at a perfect temperature. Naturally, when several heating modes are used, managing them all from different thermostats can become more complex.
A home automation system with connected thermostats provides total control
With some connected thermostats (Nest, Ecobee or those manufactured by Quebec company Sinopé) linked to a home automation system, you can manage all of your heating or air conditioning equipment via a single mobile application that can also include more advanced functions like a virtual thermostat to regulate the temperature in all zones and systems in a single process. This combination can be used to operate electric baseboards, underfloor heating systems, central HVAC systems and even patio heaters, like those from the renowned Infratech brand.
Limitless automation possibilities
The automation possibilities also make it convenient to control the temperature of a room or a residence via home automation. They avoid a lot of time-consuming and sometimes neglected manual operations, which would increase the comfort level of a room.
For example, you can make sure that a room with multiple uses is automatically tempered based on the activity being performed at a given time. To illustrate this point, imagine a room that serves both as a training room and a home theater. A higher ambient temperature is normally required to watch a movie in comfort, while a little cool air is appreciated during physical training. Depending on the movements detected by the system or even the electronic equipment that is switched on, the temperature will be adjusted to optimize the comfort for people using the room.
Elitronic: a leader in home automation systems
Whether you want to reduce energy waste or manage and automate all heating and air conditioning equipment in a building at the touch of a button, installing smart thermostats linked to a home automation system is the solution.
If you want more information or advice on the many other possibilities of home automation systems, including lighting control and security improvements, you are more than welcome to contact the Elitronic team.