Why invest in smart technology for your business premises?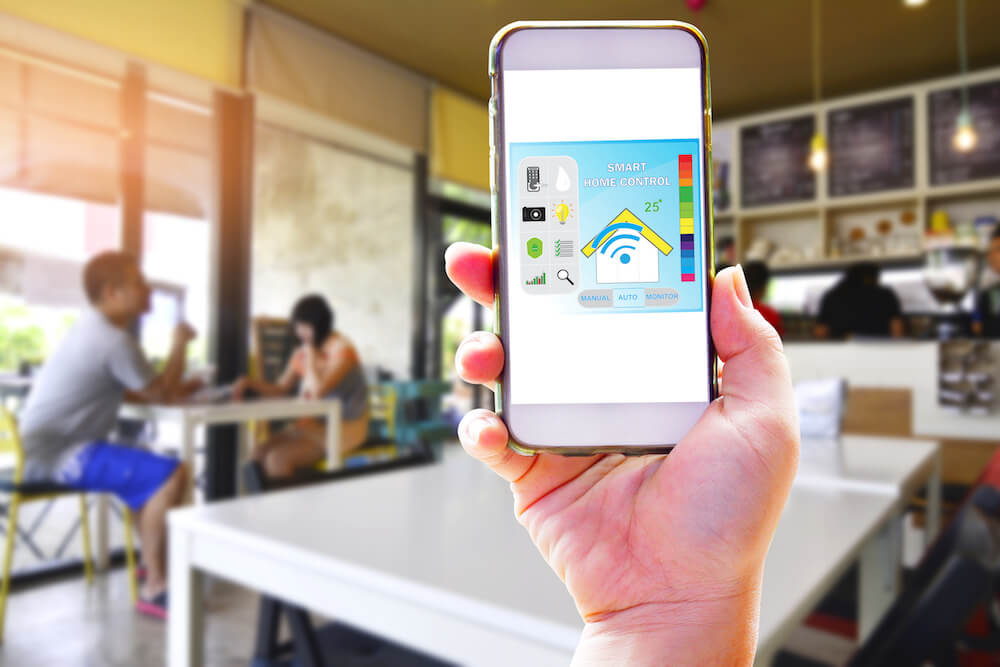 In business, every dollar spent has to produce results. In other words, return on investment is king.
In this article, find out how smart technology for your commercial establishment can pay off in a number of ways as a business owner.
Smart business premises provide a unique customer experience
A great deal of research has shown that it is increasingly difficult for companies to stand out from their competitors through the products they offer. Today, companies are more likely to stand out from the competition by offering a unique customer experience.
In this regard, there are a number of ways in which your business premises can contribute to optimizing the customer experience.
Images and sound that stir emotions
Whatever the type of commercial space, visual and sound aspects will have an impact on the purchasing decisions made by the people who enter your business.
For example, in the case of a boutique, car dealership or any other business where products are on sale, LED screens displaying inspiring, moving and dynamic images will stimulate customers' imaginations and convince them to take the next step in the purchasing process.
In the case of a sports bar and restaurant, a "videowall" made up of a mosaic of LED tiles forming a giant screen will delight fans of televised sports events. Hockey Night in Canada fans won't miss the chance to come and experience the unique thrills of this kind of screen. Naturally, this will translate into more food and beverage sales.
A pleasant atmosphere at any time of the day
In commercial establishments such as restaurants and bars, customers come for the food and drinks, but stay for the atmosphere. This is why the owners of these establishments ensure that the volume of music and the lighting are perfectly balanced at all times.
Lighting in a smart room equipped with a home automation system can be adjusted automatically, according to different parameters. For example, depending on the outside brightness, the time of day or even the event being presented, the lights can gradually increase or decrease in intensity to provide the right amount of lighting. As for sound, the volume can be gradually increased throughout the evening, as guests finish eating quietly and go into party mode. Even the music selection can change automatically to stimulate the crowd and convince them to enjoy the atmosphere a little longer and spend a few more dollars.
Impressive and customizable decor
In a commercial space, a smart lighting system operating with LED lights also offers several features for creating custom decor. Whether you want to highlight a product or an architectural element or generate an atmosphere with specific colours for a particular celebration (e.g. red and green for Christmas), it can be done with this type of system.
Commercial establishments equipped with a home automation system require less management
An investment can also be profitable if it reduces certain expenses, such as labour and energy.
Eliminate time-consuming tasks
In most businesses, there are a host of time-consuming tasks that need to be done at opening and closing. However, the time wasted every day switching on, closing, configuring and managing electronic devices could be invested in tasks with higher added value thanks to a home automation system. Likewise, the time spent managing heating and air conditioning could be eliminated since the system can handle all the business parameters on its own.
Ease of use translates into efficiency gains
When all these controls are centralized on a single interface, the time and energy savings are tangible.
For example, in a sports bar with dozens of TVs, imagine how long it takes to turn on each set and tune to the right channel.  With a home automation system connected to an audio-video matrix, it becomes incredibly easy to turn on all the devices at the touch of a finger and broadcast the channels of your choice on the screens you want.
In the same vein, the lighting, temperature and sound system in the various guest rooms and reception rooms of a hotel establishment equipped with a home automation system are much easier to manage, both for guests and employees.
Specialists are essential to avoid pitfalls
In light of this information and the examples provided in this article, you no doubt have a better understanding of why it generally pays to invest in commercial automation.
We generally recommend calling on professionals who will advise contractors on the equipment to choose, install the equipment properly and configure the equipment to take full advantage of its potential.
At Elitronic, we can analyze your commercial premises, for example its acoustics, and determine which type of loudspeakers (recessed, invisible, suspended, etc.) will deliver the best performance. In addition, all our suppliers and business partners, including Ledco for the sale and expertise in architectural LED lights, are carefully selected based on the quality of their service.
Finally, if this article has inspired you to get smart technology for your business premises, we can give you a free quote. This will give you an excellent idea of the amount to invest… which could pay off big time!